THE DEBUT NOVEL
The Water's Edge
Published June 2013
ISBN 978-0-9576449-0-8
Set in the heart of England -in 2005 and the preceding years - this is the story of Ritchie Angel, who, at thirty-five years of age, has achieved the unrealistic, and, to many, the elusive perfect life. But Ritchie is starting to feel unwell, and as a result is regretfully informed that he has only days to live.
Keeping his newfound, unwanted secret to himself, Ritchie ensures his last precious moments are lived to the full. On the fateful night, collapsing at the Water's Edge on the old timber decking at his beautiful waterside home, his wife and daughter fast asleep upstairs, Ritchie dies alone.
But Ritchie's demise is not all that it seems, as he is presented with an incredulous proposition - a way of stopping his wife and daughter finding him dead at the Water's Edge, as they surely would at sunrise. Be prepared for a roller-coaster journey that just might change the way you think forever. So, ask yourself this - you have drawn your last breath, your cards are dealt, yet you have a chance of stepping off the black road.
Would you stick, or would you twist?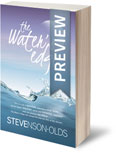 Read the first chapter for free
As a teaser for the book, we invite you to download the first chapter of the book and see what you think. We always like to hear readers views, so let us know what you think.
What the readers say...
5* Amazon Review by Natalie Morrissey
'Having just read the Stieg Larsson Trilogy, I knew my next read was going to have to be a good one! The Water's Edge did not disappoint and I was engrossed very early on. Very interesting and thought provoking story - would thoroughly recommend. Can't wait to read more by this new talented author.'
5* Amazon Review by Critical Critic
'I loved the concept of this book, but I loved the content even more ... From the very first page, the author grabs your attention and holds it throughout some 691 pages. From the moment you start reading, you won't want to put this book down (but I warn you, you might have to - Stevenson-Olds clearly believes in value for money.) That said, the author takes you on such an entertaining, well-written journey that picking up where you left off is never a problem (and I personally found that I couldn't wait to find out what Ritchie would get up to next ... And Rose - I absolutely loved that character!!) Really looking forward to more from this author.'