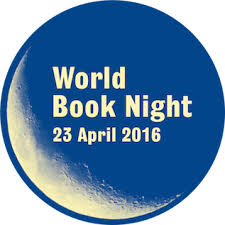 I, as they, cannot be sure, but it is the first thing that entered my head as I woke at 3am just a night ago.
3:07am – Just a Night Ago…
To wake at 3am is one thing, to turn over and re-lay your head and fall back to sleep is the right thing, to climb out of bed, to sit at your desk to write, as I am doing now, surely, a crazy thing.
'How brilliant if he did die on his birthday, as poetic as it gets…'
I have risen for a brief moment from my desk, to stand before the patio windows, to stare in awe at the seascape before me lit via a clear sky, stars and the moon above the dotted clusters of lights that sit as if miniature Christmas trees just short of the horizon – working fishing boats, quite brilliant, a working day already well underway for these fishermen.
I sit back down at my desk and think of now against back then, the 23rd April 1616, William Shakespeare's death, and back 52 years to his birth, the 23rd April 1564. I smile as I ponder that I was born 400 years and just one solitary day later – and so, a decision made, a feeling, that for me, despite the vagueness of the facts, that the great man did indeed die on the date of his birth – thought to poetic licence insisting upon it.
And so: World Book Night 2016, already in its sixth year, to inspire 'the readers,' 'the writers…' a celebration of William Shakespeare himself…
Run by The Reading Agency, the independent charity with a mission to get people reading more, a celebratory World Book Night, to be held in association with Devon Life magazine on Saturday the 23rd April, at Stoke Lodge Hotel in Stoke Fleming, Devon. This prestigious event is truly honoured to have as guest speaker, the best-selling novelist, Lesley Pearse, whom, with 10 million sales around the globe, presents an opportunity for her army of fans to meet her (well, a privileged few) and have their books personally signed. And, as-well-as, also, some quite inspirational guests/authors will be with us to answer any questions you might have. Places are extremely limited – please contact your host Sarah Stevenson-Olds for further details email: steve@stevenson-olds.com
The STEVENSON-OLDS connection with Devon Life magazine..?
Well, it was before Christmas, the grapevine doing all that the grapevine does, from one reader to the next, The Human Jigsaw gaining quite a reputation, and so a publication with a readership that far exceeds the South West of the country felt it their duty to read it for themselves. I was warned that due to my work being 'steamy in places,' their words, not mine, and such is the excessive demand for a review in their respected magazine, that I should expect a 'no.'
'Did I get a no..?'
Umm, I have to go, sleep beckons, but I promise I will let you know, and soon, in about a week's time… Take care…X